Gravel/Road/Touring/Racing
Big and Tall Bicycle
The Team is our performance powerhouse Big and Tall Bicycle. An all around gravel road bike with electronic shifting, hydraulic disc brakes, components, Zinn Duro Carbon Fork and handbuilt bombproof wheels. This bike is made for gravel racing, commuting to work, touring across the country, fitness riding, and even racing road or cyclocross. Electronic shifting is an amazing feature to make this bike the ultimate big and tall bicycle. The ease of shifting is mind-blowing, and you will almost never need to adjust the derailleurs. Smart shifters are programmable via your smartphone to customize the way you shift. Hydraulic disc brakes provide greater power and control for heavy riders for steep mountain passes and long descents.
The Team comes in set frame sizes, from Medium to 4XL, to fit riders from 5'9″ to 7'2″, and we customize the components on the bike for you. We will adjust crank length, handlebars, stem, saddle, and wheels based on your measurements and weight. Please submit your measurements and we can help figure out which bike is right for you and how to customize it for the perfect fit.
Available Sizes: M, L, XL, 2XL, 3XL, 4XL
The titanium frame of the Clydesdale Team is built super tough for big guys, and it comes with proportional length cranks for optimal pedaling efficiency, and extra wide handlebars to fit broad shoulders. The wheels are custom built right here at our shop in Boulder, Colorado using our own Clydesdale hubs that are rated for riders up to 450lbs! We build these wheels using 36 DT swiss competition double butted spokes per wheel and DT swiss brass pro-lock nipples to keep your wheels true for many miles. Each wheel is precision built by professional wheelbuilders in our shop using high-tech spoke wrenches, wheel building stands, and spoke tension meters. We also offer optional lighter weight wheels for riders under 240lbs.
Sram Rival AXS wireless shifting
Sram Rival Hydraulic disc brakes
Proportional length crank
Zinn Duro carbon fork
Clydesdale 36h hubs
Velocity Chukker Rims with DT Swiss competition spokes
2×12 speed electronic shifting
Superb braking power and control
customized to your leg length
45mm tire clearance
Rated for up to a 450lb rider
Lightweight wheel options for riders under 240lbs
Handmade titanium frame
T47 threaded bottom bracket shell
44mm internal diameter headtube
31.6mm seatpost diameter
45mm tire clearance
Rear rack and fender mounts
Flat mount disc brake tabs
Built for riders up to 450lbs/204kg
Compatible with all cranks on the market
Compatible with all tapered forks
34.9mm outside ST diameter for seatpost clamp and front derailleur clamp
43mm tire clearance with fender
Compatible with most racks and fenders
200mm max rotor size
If you are unsure of what size you need, please submit your measurements and we will help you figure out which bike is best for you.
all measurements in milimeters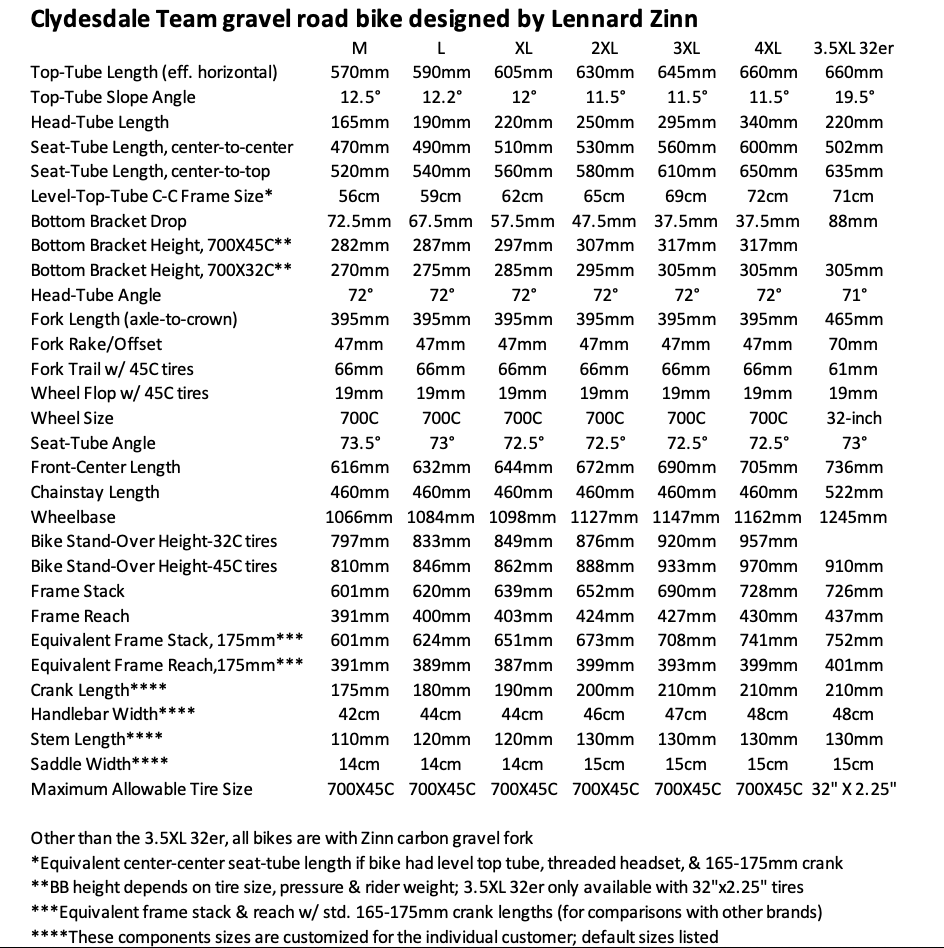 There are many more factors to building a big and tall bike than most people understand. It is not as simple as just scaling up a "normal" sized frame and calling it good. When you do that, several things happen to the bike. First, the stretched out tubes become less stiff, which results in high speed frame shimmy. This is a scary by-product of a poorly designed bike. Second, the added material makes the bike heavier, especially if the builder tries to solve problem number one with just using bigger heavier tubes. Third, without a fork with a long enough steering tube, the handlebars will be far too low for the tall cyclist causing discomfort in the back, neck, wrists, and arms. Fourth, building a bike for a tall rider with average length cranks will make the rider feel like he's pedaling a kids bike while sitting up very high. Lennard has developed great frame design concepts to address and solve all of these issues and more, which are all fully applied in the designs of Clydesdale Bikes. A Clydesdale bike designed by Lennard Zinn will be stiff and strong, while remaining lightweight. It will never shimmy at high speeds, and all of the components, including cranks and handlebars, will be proportional to the rider. Fit, performance, comfort, and durability will all be superior on a Lennard Zinn designed bike than a big and tall bike from any other designer out there. We guarantee it.
At Clydesdale Bikes, we're constantly looking for innovative ways to bring you custom builds that are lighter weight than anything else on the market. One of our go-to materials, titanium, is a top choice. It's half the weight of steel so we can build bigger frames with larger tubing and still guarantee your bike will be lighter than anything else. We prefer larger diameter tubing for our bikes because you get a comfortable and compliant ride that still provides great stiffness for ideal power transfer to ensure you're not working too hard over long rides.
Titanium also has plenty of other benefits, like fatigue resistance and strength for smaller tubing, better absorption of road buzz and bumps on gravel, and it's completely impervious to corrosion. Our frames come with a shiny brushed raw titanium finish, and can also be painted to customize our bikes even more.
When compared with other materials, like steel or aluminum, titanium always comes out on top. It can flex further than both without permanent damage and withstand intense riding. Many other materials, like carbon fiber, are vulnerable to serious damage, like notch damage, which can cause catastrophic failure in a bike frame. Titanium however, could literally last you a lifetime – if not longer!
Excited about your new bike? You can place an order by paying a partial deposit, paying in full, or applying for financing using the appropriate buttons below. If you don't know which size you need, please use the bike fit button to submit your measurements, and we will help figure out which bike is best for you. We are here to answer your questions, so please don't hesitate to contact us via phone or contact form.
Please don't hesitate to contact us with any questions you have about Clydesdale Bicycles. If you don't see the type of bike you are looking for, email us and let us know what types of bikes you would like to see in the Clydesdale line up. We will be adding new models every year until we are covering every corner of the big and tall bicycle market.