Titanium Triathlon Bike for Tall Guys
In the world of triathlon bikes, if you are over 6'4″ there is simply no bike that will fit. Until now.
Clydesdale Bicycles has been listening to the requests from our tall customers and we are excited to offer an XXL triathlon bike for tall guys in our line up. This bike is truly designed for tall riders and is fully race capable in any type of triathlon or time trial. The titanium frame is light and strong and the geometry will be optimal for triathlons and time trials.
These titanium triathlon bikes for big guys are built super tough and come in 2XL, 3XL, and 4XL for riders from 6'4″ to 7'2″. This bike is available with two main component packages; Shimano 105 mechanical shifting and Sram eTAP AXS electronic shifting. We have multiple wheel options depending on your needs. Please request a quote so we can send you an itemized price list for either option.
Available Sizes: 2XL, 3XL, 4XL
The Tri – XXL Triathlon Bike for Tall Guys
The Tri comes with specialized components to provide a smoother, more comfortable ride as well as optimized aerodynamics and powerful performance, including:
2×11 Speed Components

Aero bars and shifters

Enve Carbon Fork

Handbuilt, Bomb-Proof Wheels or factory built race wheels

Titanium Frame
Mechanical Shifting Option
Shimano 105 drivetrain with dura ace bar end shifters
TRP Triathlon/TT hydraulic disc brakes
180mm crankset
Enve All-Road carbon fork
Multiple wheel options
Electronic Shifting Option
Sram Force/Rival AXS components
TRP Triathlon/TT hydraulic disc brakes
Enve All-road fork
Multiple wheel options
Handmade titanium frame
T47 threaded bottom bracket shell
44mm internal diameter headtube
31.6mm seatpost diameter
38mm tire clearance
Flat mount disc brake tabs
Built for riders up to 450lbs/204kg
Compatible with all cranks on the market
Compatible with all tapered forks
34.9mm outside ST diameter for seatpost clamp and front derailleur clamp
Can be used for gravel triathlons
160mm max rotor size front and rear
If you are unsure of what size you need, please submit your measurements and we will help you figure out which bike is best for you.
all measurements on the chart are in milimeters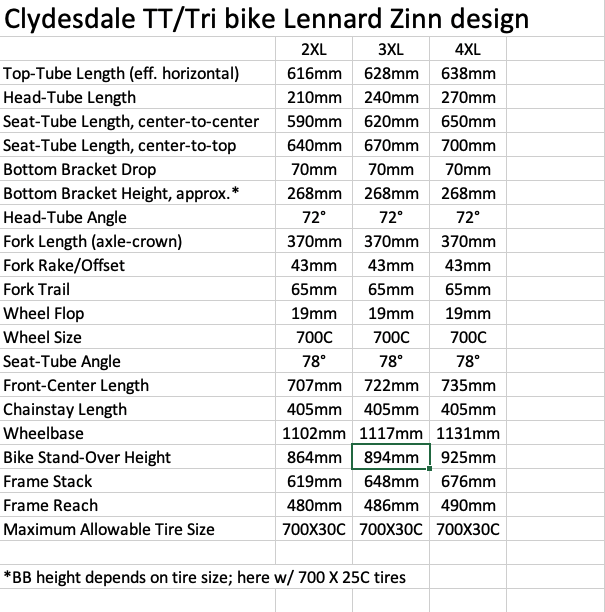 Creating a bike specifically for big and tall individuals is much more challenging than many cyclists might think. It's not enough to scale up the size of an ordinary frame; doing so has several potentially detrimental consequences. For starters, it can lead to decreased structural rigidity, which causes high-speed shimmy—potentially making riding dangerous. Additionally, using bigger and heavier tubes to counter this effect only makes the bike even more cumbersome while failing in its original intent of increasing stability.
Thirdly, without a fork with an extended steering tube, the handlebars will be too low for taller cyclists to ride comfortably. An improper fit may lead to excessive pain in the back, neck, wrists, and arms. Moreover, building a bike for tall riders utilizing regular-length cranks would provide a similar feel to riding on a child's bicycle while sitting up very high.
Lennard has created remarkable frame designs to combat these issues, which are at the very root of the design process of our Clydesdale Bikes. With a Lennard Zinn-crafted bike, you can expect unparalleled stability and lightness without shimmying at high speeds. Additionally, every component included in your ride – from cranks to handlebars – will be perfectly proportionate for you. Comfortability, performance, and durability are unmatched with a Clydesdale bicycle designed by our master craftsman, Lennard Zinn. We guarantee no one else can top our quality standards in the market.
This XXL triathlon bike is truly for tall guys, as it's available in sizes 2XL through 4XL. We can accommodate riders up to 7'2 tall! To ensure you get the most out of your bike, we carefully engineered the proportions of the frame instead of just scaling it up. You get aero handlebars for better aero position, 180mm cranks for better pedaling efficiency without sacrificing the aero position, and custom wheels built in our Boulder, CO shop. You can also choose to upgrade to aero wheels for racing.
We love titanium for our triathlon bikes and XXXL frames and every other size. Titanium is half the weight of steel and just as strong. Our designers know that larger diameter tubing built with titanium provides more stiffness and strength, better fatigue resistance, and increased power transfer than other metals. It also has amazing compliance and ensures a comfortable ride over all types of terrain. Unlike steel or aluminum, titanium can never corrode. You can also paint it for a unique look.
In addition to using premium titanium for our frames and top-quality materials for all our other components, we also use spoke tension meters, wheel-building stands, and high-tech spoke wrenches when building wheels on this bike for big guys.
Excited about ordering a new XXL triathlon bike? We're excited to work with you! Place your order with a partial deposit, full payment, or apply for financing below! If you're ready to order, but you aren't sure about the size, explore our fitting guide or schedule a consultation so our team can build the best bike for you. Have questions about our bikes for big guys? Reach out today!
Please don't hesitate to contact us with any questions you have about Clydesdale Bicycles. If you don't see the type of bike you are looking for, email us and let us know what types of bikes you would like to see in the Clydesdale line up. We will be adding new models every year until we are covering every corner of the big and tall bicycle market.