Submitted by Volker Helmuth
I'm a 6'6″ 200lb bike-packing rider who happens to have concluded that, for me, a hardtail mountain bike makes the best bike-packing bike for rough Forest Service roads and rail trails (that best describes our rail-trail network across southern British Columbia). Or maybe I just enjoy the slightly more plush ride and easy steering that comes with a suspension fork and slight riser bar versus rigid forks and drop-bars. I had my sights on the KHS BNT 29er. BUT … KHS was behind in deliveries all through 2022, and I needed a bike for a trail ride across British Columbia that summer. My only option was to get out the hammer, smash the piggy bank and put in an order for a Clydesdale Steer!
Sorry piggy, but it was worth every penny! I filled in all my measurements on the Zinn sizing page on their website, and then got a call from Nick to just ask a few more questions about my riding style preferences. Apparently a 3XL was going to be just right for me. When the biggest bike box I'd ever seen was delivered to my house a few weeks later, I knew there was something special in there. I pulled out the frame, wheels and assorted other parts, assembled everything, and when I got on it … it fit! I mean it actually FIT me! Like a bike fit me the last time when I was a teenager and still under 6′ tall. Wow, what a feeling!
The Steer is big, high, with a comfortable reach, and rolling on big wheels and tires. What's it like to ride? It makes me feel like I'm on the bike equivalent of a Ford F150 Raptor! Just look at it, all decked out and ready for my first trip.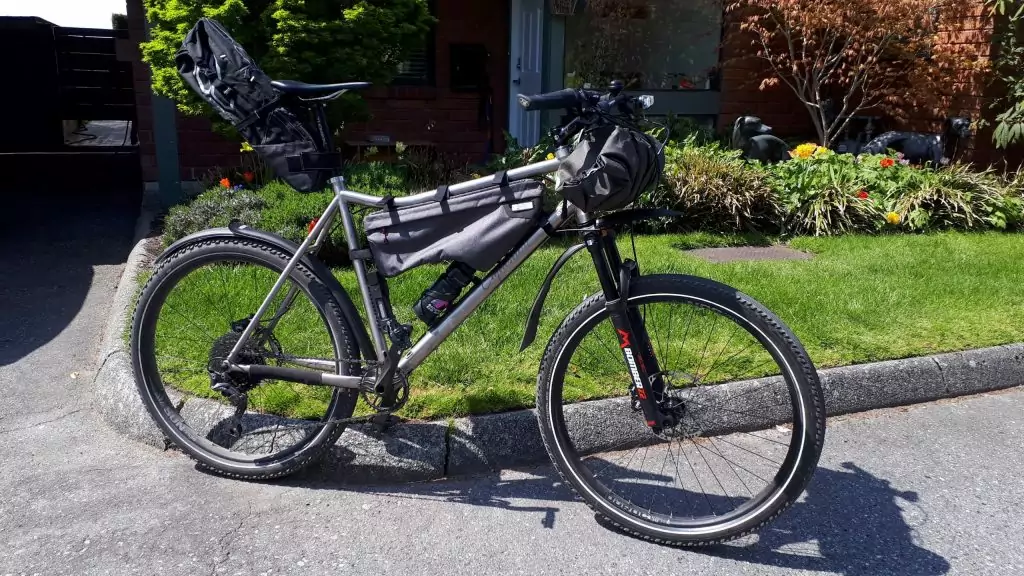 In my size it weighs in at a surprisingly light 29lbs, due in part to the titanium frame, of course. I expect the steel frame KHS would have been a bit heavier. Maybe it's not as nimble as a normal manufacturer's "XL" frame mountain bike (that I'd need to ride with a super-extra-long seat post and could not imagine touring on). I feel most at home on the Steer on wider tracks, where it simply sails across everything in its path. I ride with an SQlab saddle, ergo grips and slightly narrower 2.4″ gravel touring tires, that Nick gladly switched for the stock 3″ tires that it was normally going to come with. Oh, did I mention how fantastic the 20cm crank arms are? How did I ever make do without them? I had no idea that pedaling could feel like that. Nick also did a fantastic job of sorting things out when I initially had an issue with my bottom bracket. Zinn's customer service was simply excellent.
If anyone is looking for a great multi-day trip option, with no highway riding and just a few short back-road segments, consider coming to British Columbia and riding our southwest / south-central rail trail network. That was my 2022 trip and, as you can see, the Steer was absolutely in its element.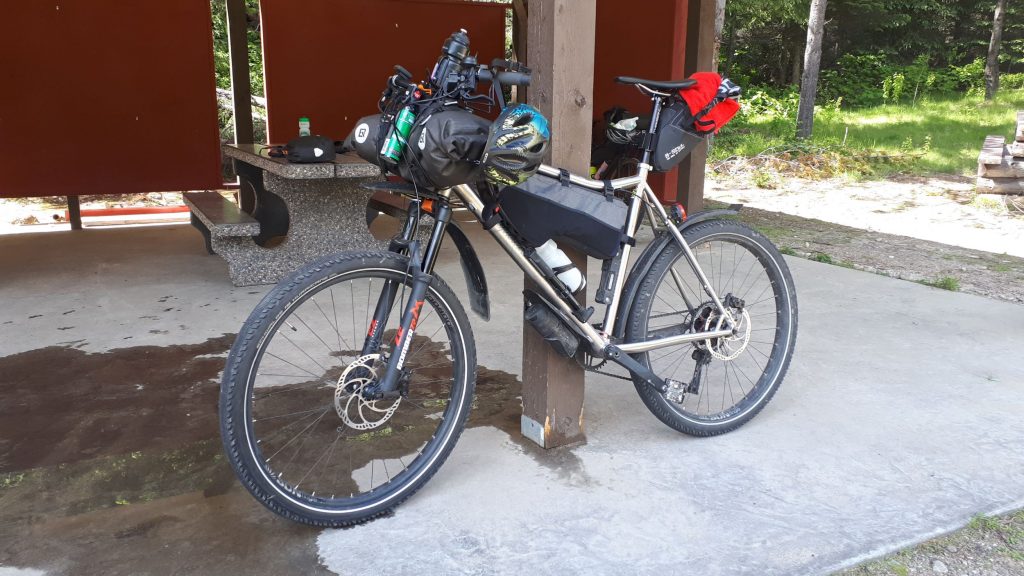 If you are interested, look up the "Kettle Valley" and the "Columbia & Western" rails trails, and you'll find lots of information about it. It runs for about 450 miles but can be done in two or three separate segments. For me the Steer is the perfect bike for that kind of touring, but friends I was with did it on drop-bar bikepacking bikes. Without a doubt I was the most comfortable in the saddle.
I imagine the Clydesdale 'Rein' would also be great for that kind of riding, as it seems to accommodate quite wide tires, and of course the 'Draft' should be able to get the job done nicely too. The key is that a Clydesdale is sized for tall riders, with optimized frame geometry, and that makes all the difference.
If you are not into tenting anymore, the British Columbia rail trail system here has enough towns along the way for regular daily restaurant and motel options. There is also bus service from Vancouver that can drop you and your bike off at various towns along the trail, and you can then ride back as far as you want and catch the bus again on the return trip.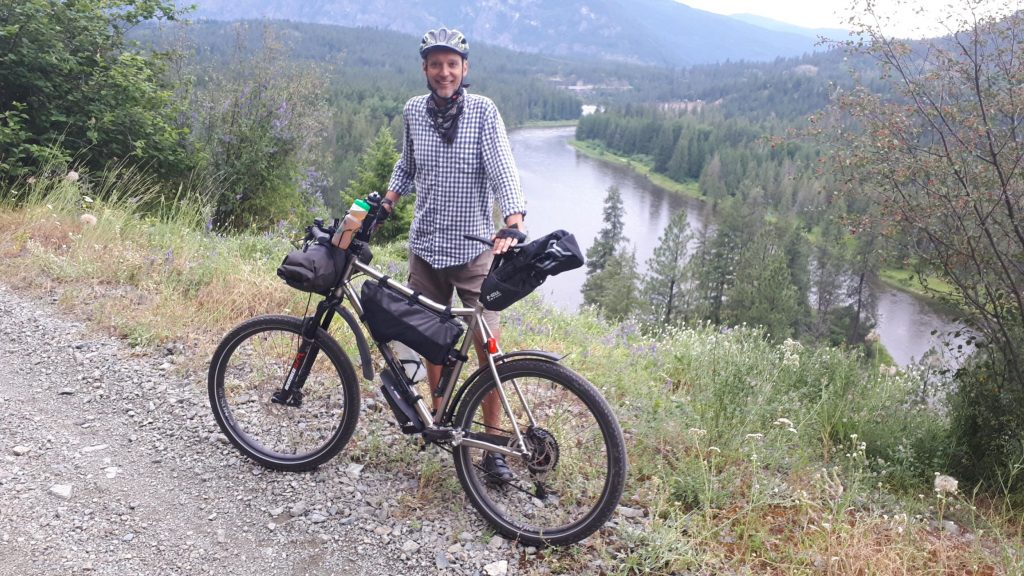 While I'm pitching rail trail touring in Canada, this summer I'll be taking the Steer on the Trans-Newfoundland rail trail across, you guessed it, Newfoundland, on Canada's east coast. A bit over 400 miles of rail trail, all the way across the island. No highways, no 18-wheelers blasting by, easy all-day side-by-side riding at a max. 2% grade up or down; touring perfection!
When I was looking at the Clydesdale bike options, I also seriously considered the 'Rein', as it looks like such a perfect 'do everything' bike, but I really appreciate the Steer's angled top tube and I do love being able to flip the suspension fork to "active" and take whatever rougher stuff comes my way. For me, the Steer is perfection for riding bumpy roads and trails all day long in complete comfort.
Thanks, Lennard, for designing and producing such a fantastic bike!