Cyclocross and gravel bikes
are the most versatile types in the cycling industry today. Every year they become more popular with cyclists of all skill levels, but if you're asking yourself, "
What is a cyclocross bike used for
under typical circumstances?" You'll need to do a little research. They both have unique benefits and drawbacks, and we understand it may seem hard to decide which bike is right for you. So today, we'll cover five significant
differences between cyclocross and gravel bikes
to help you make an educated decision. 
Cyclocross Bikes are Designed for Racing
If you're a fan of cycling, then you're probably aware that cyclocross and gravel bikes are great ways to get outside and enjoy the scenery while getting some exercise. However, there is a big difference between cyclocross and gravel bikes. 
When asked, "What is a cyclocross bike used for?" The answer is racing. Cyclocross is a competitive sport, and races usually are held on short courses that include a mix of surfaces such as grass, dirt, or sand and obstacles like logs or stairs. To get maximum performance, manufacturers build cyclocross bikes for speed and agility, with lighter frames that make them faster on hard surfaces. 
On the other hand, gravel bikes require more comfort and stability. Most cyclists use gravel bikes on long courses over unpaved surfaces like gravel roads or single-track trails. Because of the distance involved and the rough terrain, these rides tend to be more endurance-based than skills-based and require more features that help the rider feel more comfortable for long periods. 
Cyclocross Bikes Have Different Bike Geometry
The second difference between cyclocross and gravel bikes is geometry. Cyclocross bikes are similar to road racing bikes, with a more aggressive stance that puts the rider in a position to generate maximum power. Different geometrical dimensions, such as frame size, the length of the top tube, the angles of the headtube, and seat tube length, affect overall performance. Bike manufacturers design their frames with specific geometry dimensions to achieve optimal riding positions that create a high-performance riding experience. If you're a bigger guy or gal, finding the right-fitting bike is pivotal to creating a good riding experience. 
When comparing cyclocross and gravel bikes, you'll find that gravel bikes have a more relaxed geometry that puts the rider in a more upright position. They typically have shorter top tubes, larger headtube angles, lower bottom bracket heights, and longer chainstay lengths to increase stability. While these dimensions make gravel bikes more comfortable for the rider, they're not quite as efficient at generating speed and power. 
Bike geometry is one of the key differences that determine what a cyclocross bike is used for. The unique bike geometry makes it great for racing. 
Cyclocross Bikes Have Narrow Tires
Tire width and tread patterns are noticeable differences between cyclocross and gravel bikes. Because of what they are used for, cyclocross bikes have very tight clearance and have to be able to navigate through mud and other obstacles. That means they can only accommodate smaller tires, usually no more than 33mm wide. While gravel tires, on the other hand, can range from 28mm up to 55mm. Wider widths give gravel tires more stability and comfort on rough terrain, but it comes at the expense of speed. Cyclocross tires may not be as comfortable as gravel tires, but their narrower width makes them faster on hardpacked surfaces. 
Another significant difference to consider is tire tread. Both cyclocross and gravel bikes have knobby tread patterns that provide traction on loose or wet surfaces. However, cyclocross tires tend to have taller, sharper tread blocks than gravel bike tires. While these blocks provide better grip when riding on soft surfaces like mud or sand, they are also slower and less efficient on firm surfaces like pavement or hardpacked dirt. As a result, gravel bike riders have more flexibility when choosing tires based on riding conditions and personal preference. 
Cyclocross Bikes Have Fewer Gears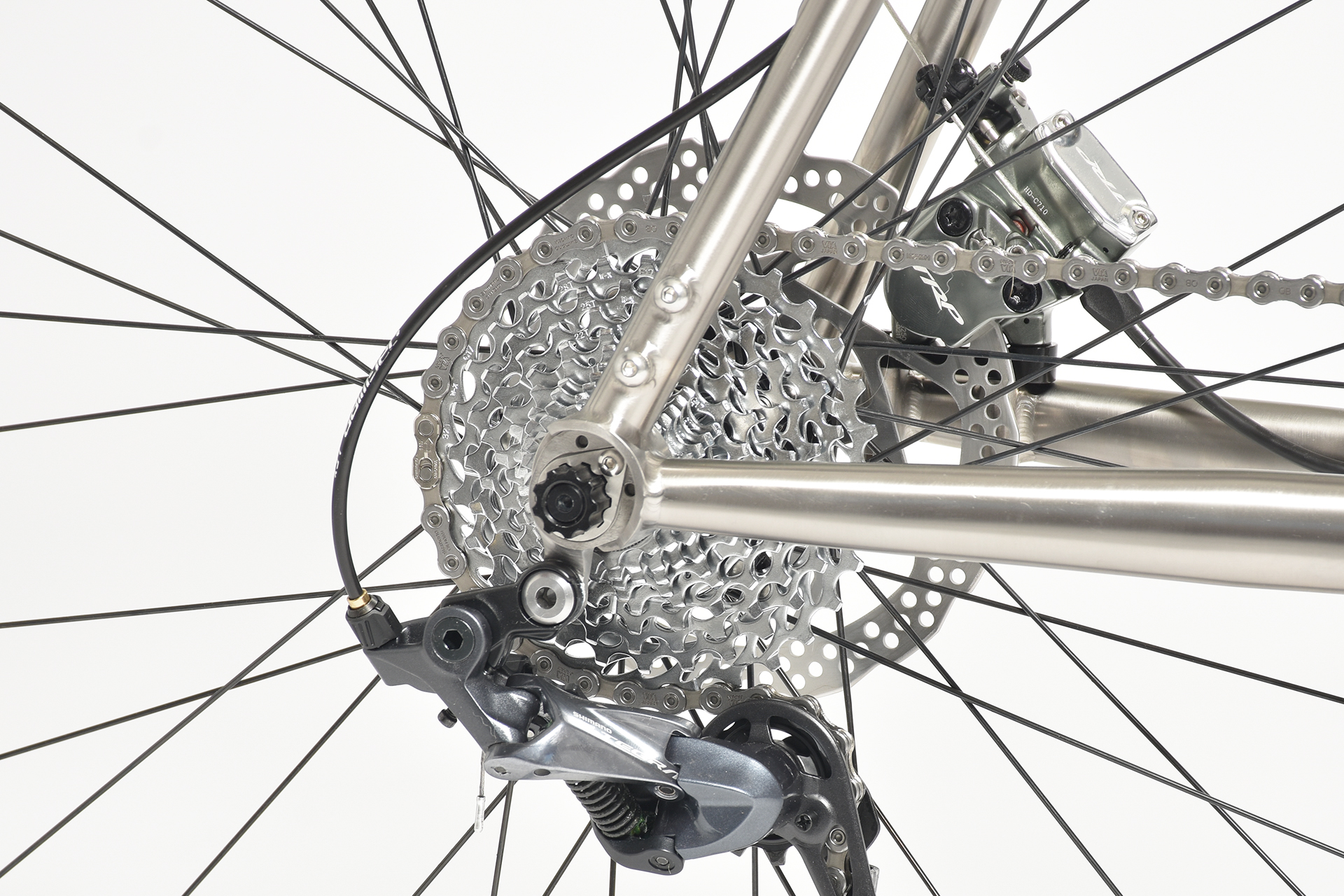 Though they may look similar at first glance, cyclocross and gravel bikes are two different animals. One of the main differences between cyclocross and gravel bikes is the number of gears they have. A cyclocross bike typically has between 10 and 12 with one chainring. This relatively small number is due to cyclocross bikes racing on short, flat courses with few elevation changes. The low number of gears also helps to lower bike weight, which is beneficial in a race situation. The tradeoff, however, is that cyclocross bikes can be more difficult to pedal uphill due to the lack of low gears.
Gravel bikes usually have between 11 and 12 gears on the rear cassette and one to two front chainrings. This slightly higher gear range is due to gravel bikes riding over longer distances and on courses or trails with more varied terrain, including hills and mountains. The increased gear range allows riders to power up steep inclines more easily. However, the tradeoff is that gravel bikes are heavier than cyclocross bikes due in part to the added gearing components. So, when it comes to what a cyclocross bike is used for, gear configuration leans heavily towards racing. 
Cyclocross Bikes Have Smaller Handlebars
Lastly, handlebars are another significant difference between cyclocross and gravel bikes. Cyclocross bike handlebars typically tend to be narrower than other types, which gives riders more control when maneuvering around tight turns. Cyclocross bike handlebars also have a slightly dropped design, which makes it easier for riders to transition from the tops of the bars to the drops. This design is ideal for cyclocross racing because it allows riders to maintain a more aerodynamic position.
Cyclocross and gravel bike handlebars typically use aluminum, but some higher-end models may feature carbon fiber. A gravel bike handlebar tends to be wider than road bikes, touring bikes, or cyclocross bike handlebars, which gives riders more stability when riding on uneven terrain. Gravel bike handlebars also have a flared design, which provides more grip area for the hands and prevents them from sliding off the bars. This design is perfect for long-distance riding because it increases comfort and reduces fatigue. The flared drops on a gravel handlebar also help you get into an aggressive position on rough descents without the bar tops getting in the way of your forearms. The wider hand position gives added stability as well. 
Find The Bikes You Need at Clydesdale Bicycles
So there you have it. "What is a cyclocross bike used for?" is a common question. The answer is competition and racing. In short, cyclocross and gravel bikes have similar features, but there are recognizable differences. With the information we just covered, you should have no problems determining which is best for you. The good news is that you can enter cyclocross races on a gravel bike if you want to be able to do some races on your gravel bike. If you get really serious about cross racing, you will want a dedicated cross bike, but for most of us, a gravel bike will do the job. 
If you're looking for bikes for tall or heavy riders, we have you covered. We have premade non-custom XL bikes for large riders, or if you want a customized bike designed to fit your unique body, we can do that too. If you have any questions or want to set up a custom bike fitting, contact us or call 303-499-4349 to speak to an expert.